Long-time Salesforce admins are often surprised that the average marketing professional does not "see" Salesforce objects and records the way they do. For those steeped in admin life, objects, records and record types naturally produce logical connections. Yet, most marketers see the world in logos, images and style guides.
Taking a visual user like a marketer and putting them in front of a detailed interface like we see in Salesforce Marketing Cloud Data Designer and Data Extensions can be incredibly overwhelming, ultimately creating adoption issues for your Marketing Cloud implementation.
By leveraging Marketing Cloud's drag-and-drop capabilities to the max, we can turn the user-friendly experiences highlighted by sales demos into reality.
What are Data Extensions, and why are we avoiding them?
Salesforce Marketing Cloud stores data within its system as Data Extensions. You can think of this as a spreadsheet with column headers and rows of details. Contact Builder allows you to organize and link a variety of data extensions into a hub-and-spoke organizational model. This allows for organizations to link together things like shopping cart data with CRM data and beyond.
Salesforce has made it really easy for us to access all that powerful data stored within the Salesforce cloud, via a mechanism called Marketing Cloud Connect. After setting up these connections, Marketing Cloud allows administrators to choose the Sales Cloud objects that will be synced to Marketing Cloud, along with any necessary filters for your operations (aka Business units).
An FYI to those who have been around for a while: Marketing Cloud Connect has undergone significant (re)development in recent years, which has resolved many of the instability and authentication issues users experienced in the 2010s. Today, it's much more stable and useful than ever, and given the power of interrelated data sources, it's the key element in our shift to more robust and effective data management models.
Begin at the Beginning: Sales Cloud
Where does every sales cycle start? With the Lead.
Where does the marketer start? With the Campaign.
Both Leads and Campaigns are core objects in Sales Cloud and have been around since the beginning of the platform. They are woven into the DNA of the Sales Cloud system and the Lightning UI makes them more understandable than ever before. So, why would we manage these critical elements anywhere but there?
Using Sales Cloud as the data hub and syncing it to Marketing Cloud allows organizations to unify marketing teams' and sales teams' activities (and attentions) in a shared environment. Here, it might be helpful to think of Sales Cloud as a meeting room in which both teams assemble. They sit around the digital table and use reports and dashboards to illustrate their perspectives of the business issues at hand. The conversation then turns into collaborative brainstorming across product lines and efforts as
both teams work to engineer the most effective paths to their goals. Once the meeting is over, team members return to their desks to build and launch their portions of the strategy. By mirroring the Sales Cloud process to this familiar human process, we dramatically improve our users' understanding of the platform, which becomes the source of collaboration rather than separate silos and disjointed systems.
The Shift to Maximizing Point-and-Click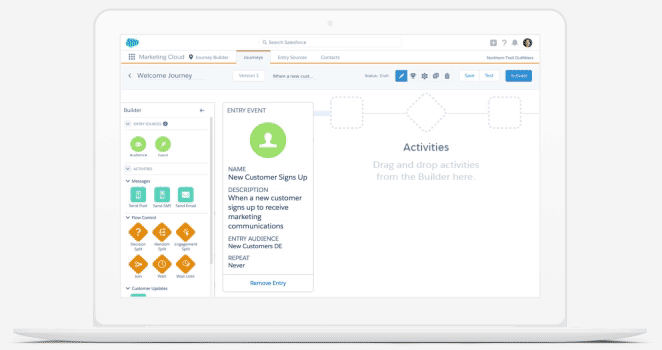 At AGCO, we shifted our model completely away from Data Extensions. Only our very small technical support team even has access to them. Instead, we focus first on the core Sales Cloud objects and we begin every marketing conversation by building a report in Sales Cloud of our target audience. This gives us the understanding of what objects, fields, and filters are involved.
AGCO builds journeys for messaging that requires sequenced communications, if/then decision split pathing, and multiple channels. The processes for creating reports and journeys so closely resemble one another that users already familiar with one catch on quickly with the other. Such familiarity comes in handy when administrators must troubleshoot issues or provide users with extra help.
Email Studio can be used to efficiently send email to reports or campaigns, either as individual or batch distributions. With Scope by User enabled, Marketing Cloud will only send to those contacts or leads to which the Marketer has access. This complete adherence to the sharing and permissions within Sales Cloud significantly reduces our Marketing Cloud administration effort.
By asking ourselves 'where is it in Sales Cloud' at the beginning of every Marketing Cloud build, we are setting ourselves up for success by leaning on the data mappings in Sales Cloud instead of creating new ones in Marketing Cloud. This is the technical beating heart of the shift to Point-and-Click nirvana.
The Payoff: Marketing at the Pace of Business
AGCO's shift to leverage Sales Cloud objects as our data model instead of focusing on the individual data extensions has driven Marketing Cloud adoption to a rate I have never seen in my 20-year career in marketing and marketing technologies. Before this transition, our marketers were frequently overwhelmed by Marketing Cloud, which represented a complete divergence from the creative world in which they lived. Building and enacting their content-driven marketing campaigns required the not-so-intuitive creation of data extensions and other technical abstractions. They had a vision for the marketing they wanted to send and how they wanted to use these tools to help our dealers and customers, but when they opened up Marketing Cloud, the first thing they had to do was create and filter data extensions. This was a complete divergence from the creative and content-centric world our marketers live in every day.
When the coronavirus forced us all to accelerate collaboration while working remotely and adopt digital technologies at a rapid pace, we realized what a great decision we had made. We were able to create a fast-track onboarding program, which combined Salesforce's free trailhead content with our own AGCO training. Little time had to be spent explaining intricate details like data extensions, filters, and the nuances of record types or sharing rules. We have greatly reduced the inherent security risks of giving staff access to customer and dealer personally identifiable data, and we have hard-coded consent into the integration closing all of the standard system loopholes which might permit a marketer to accidentally email a customer who has revoked consent. Today, our marketers are confidently building and sending emails without any intervention from other teams.
Next, we're exploring the full range of metrics available to us. Sales Cloud has a natural sync with Marketing Cloud that we are beginning to tap into for standardized dashboards across our global brands, and we are trying some new things with Einstein Analytics to see what we can find there. We are on a Marketing Cloud journey ourselves, much like the ones we create for our Employees, Dealers, and Customers.